E-commerce businesses are likely to benefit the most from analytics tools, typically Google Analytics.
However, not every entrepreneur knows how to use such tools to optimize e-commerce stores. That's where the ultimate guide to analytics tool for e-commerce below comes in handy.
As the online version of a brick-and-mortar store, an e-commerce store can't directly evaluate the interaction of customers with its products.
But, with Google Analytics E-commerce, nothing is impossible. It can tell you about your customers' online shopping and checkout behavior as well as the performance of your products.
Here are 3 simple steps for beginners to an Analytics tool
1. Shopping behavior analysis
In Google Analytics, click on the Shopping Behavior report. This report is available at Conversions > E-commerce > Shopping Behavior.
You can find out customers' progress to buy a product online, at the same time identifying the pages with a high abandonment rate.
By taking a look at each shopping stage, you can detect problems and formulate hypotheses about underlying reasons.
2. Checkout behavior analysis
Such analysis is an extension of the shopping behavior analysis. It indicates the customers' progress in the last checkout steps.
The checkout stage plays an important role in the users' decision to buy a product. Running into friction points is unavoidable on their way to the final purchase.
This report is also available in the E-commerce tab.
Make a comparison with your record of the previous period and your industry. The benchmarks of historical and industry data will guide you to the smarter hypotheses about the actual driving forces in your e-commerce performance.
3. Testing hypotheses
There are two ways to conduct the examination of your hypotheses.
Method 1: Create an e-commerce segment
In the shopping or checkout behavior report, click the red abandonment arrow. An e-commerce segment will appear.
Apply this segment to other reports relating to device, language, user type, or browser if you doubt the abandonment is linked to respective factors.
For example, if the checkout on mobile devices goes wrong, you can go to the devices report to apply a "payment info drop-off" segment. Then a transactions column is available for your evaluation.
Method 2: Make a direct comparison in shopping and checkout behavior reports
Firstly, simply select the "abandonment" to move from sessions to abandonment.
Changing from "user type" to other dimensions, for example, "device category," is also possible.
By testing hypotheses, you can know exactly from which problems with your online page start, thereby taking prompt measures to boost your revenue.
Must-have e-commerce analytics tools
Besides Google Analytics, a common tool among online sellers, you can find out more trendy tools in the ultimate guide to analytics tool for commerce as follows.
KISSmetrics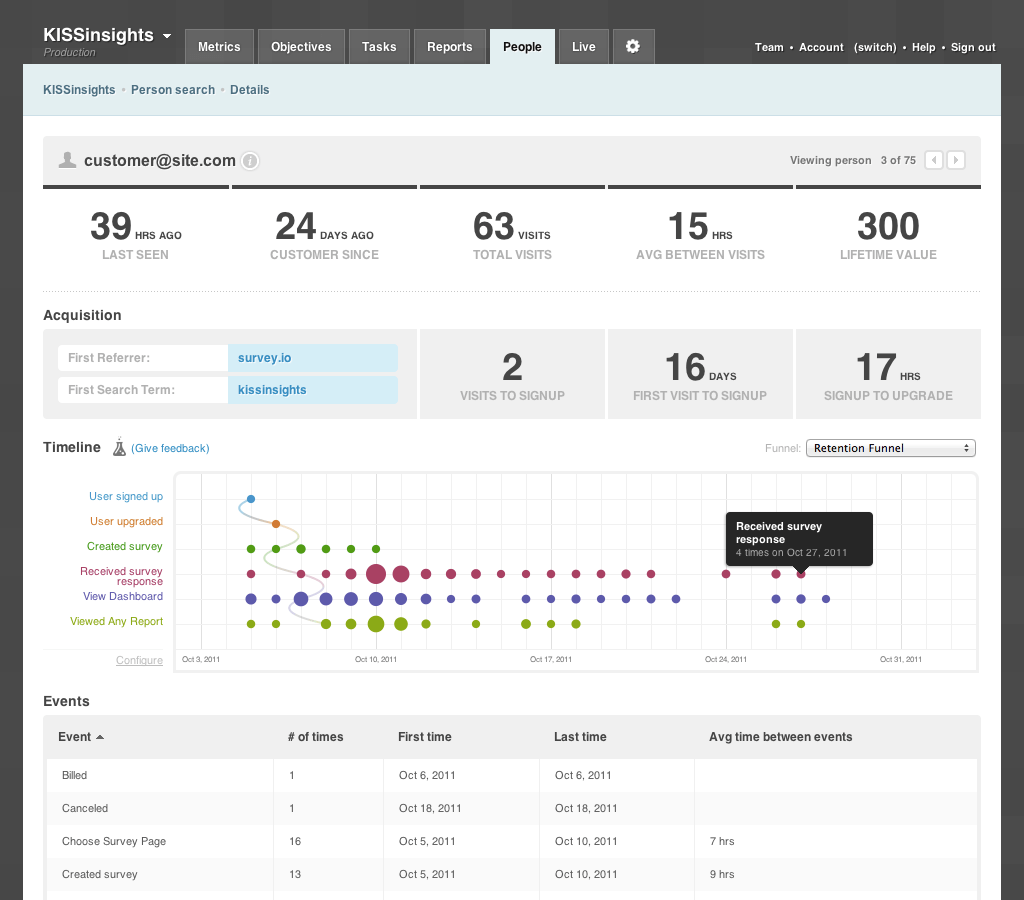 This tool aims at increasing sellers' knowledge about their customers and retention rates. Thereafter, you can make more informed choices of your store layout and marketing.
Ecomfit makes evaluating data analysis easier than ever. The power of AI and Machine Learning automate the whole process as well as suggesting the best approach to different segments.
Metrilo
Besides analytics, Metrilo does an excellent job in CRM and automated email marketing. This tool helps you understand your customer lifecycle and disperse marketing material concurrently.
Compared with usual analytics tools, Metrilo can even turn one time customers into loyal.
Crazy Eggs
This tool is compatible with almost every website. It provides user-friendly yet informative graphs. Especially, heat maps are available for you to spot which website areas are frequently ignored or need focusing on.
Final thoughts
The advent of analytics tools has helped online sellers through the difficulty of not interacting with their customers in person. However, to exploit such tools is another thing.
Hope you can get what you need from the ultimate guide to analytics tool for e-commerce.
Hope this post is useful to you, please Like, Share and Subscribe for our next topics. Feel Free to contact us via email:help@ecomfit.com