Who does a market analyst do?
A market analyst is a professional who studies and researches all the information in the ongoing market to help the customer or employer make a final decision about their market.
The scope of market analytics could range from what the current trend is, what market to develop a new product in, how much the consumers are willing to pay, etc.
A market analyst will often create detailed reports that visually depict the market insights based on the captured information.
They can use conventional methodologies such as focus groups or survey, or use newer technologies such as digital marketing and analytics tools.
What is the requirement to become a market analyst?
Usually, a typical job entry for a market analyst will require a bachelor's degree.
Moreover, there are many senior positions which require a master's degree or higher.
There are a variety of study majors that are suitable for this professional. They include, but not limited to, statistics, mathematics, computer science, business administration.
Other social study branches could also apply for the market analytics job such as communication, consumer psychology, etc.
Job Description
It usually depends on the current project and the scope of market research.
The work environment surrounds the market analyst usually is fast-paced and competitive, as is the nature of the fast-changing market, especially during e-commerce and social media era.
However, the job produces many excellent learning opportunities that can lead to a fulfill and prosperous career thanks to the fact that you always need to research new business and innovative ways of conducting business.
Job responsibility
If you already are curious about this profession, here is the full responsibility of this job that you need to master.

Keep track of the market and forecast the market's trendings

Research on the current marketing strategy of the company

Collect customer data via surveys, social media polls, etc.

Collect market data, competitor data via global reports

Using technical software and

analytics tools

to analyze data

Create a final report to help management make an informed decision
Job Outlook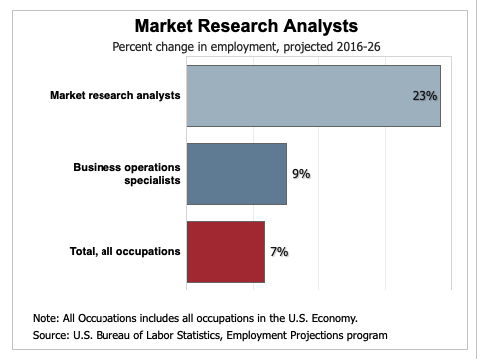 According to the US Bureau of Labour Statistics, the market for research analysts will expand more than 26% from 2016 to 2026. This is a very fast rising trend when compared to other job occupations in the business sector.
Continue reading to find out why.
Due to the nature of exploding data and information post-digital era, there are increasing demands for the aggregated big data to be analyzed so that the key insights can be captured which will drive the business decision.
That is why across any business sector, including production and service, the market analyst is one of the essential components to study the demand of every customer.
That means the company will be in a better position to attract new potential customer to their product and service.
Furthermore, market research will also allow the company to have a competitive edge against their opponents in the market. They can be the main factors to boost sales as well as reduce costs.
Employers of market analyst
If this is the right job for you, do not forget to check out below to find out the business segment where you should apply to.
The US Bureau of Labour Statistics has published the number of primary employers for market research in 2016 as:
| | |
| --- | --- |
| Job sector | Percentage |
| Management, scientific, and technical consulting services | 12% |
| Finance and insurance | 10% |
| Wholesale trade | 9% |
| Management of companies and enterprises | 8% |
| Publishing industries (except Internet) | 3% |
Conclusion
Now you will agree that,
This is one of the fastest rising jobs for the future. Start applying for the position of market analyst now.
Hope this post is useful to you, please Like, Share and Subscribe for our next topics.
Feel Free to contact us via email:help@ecomfit.com